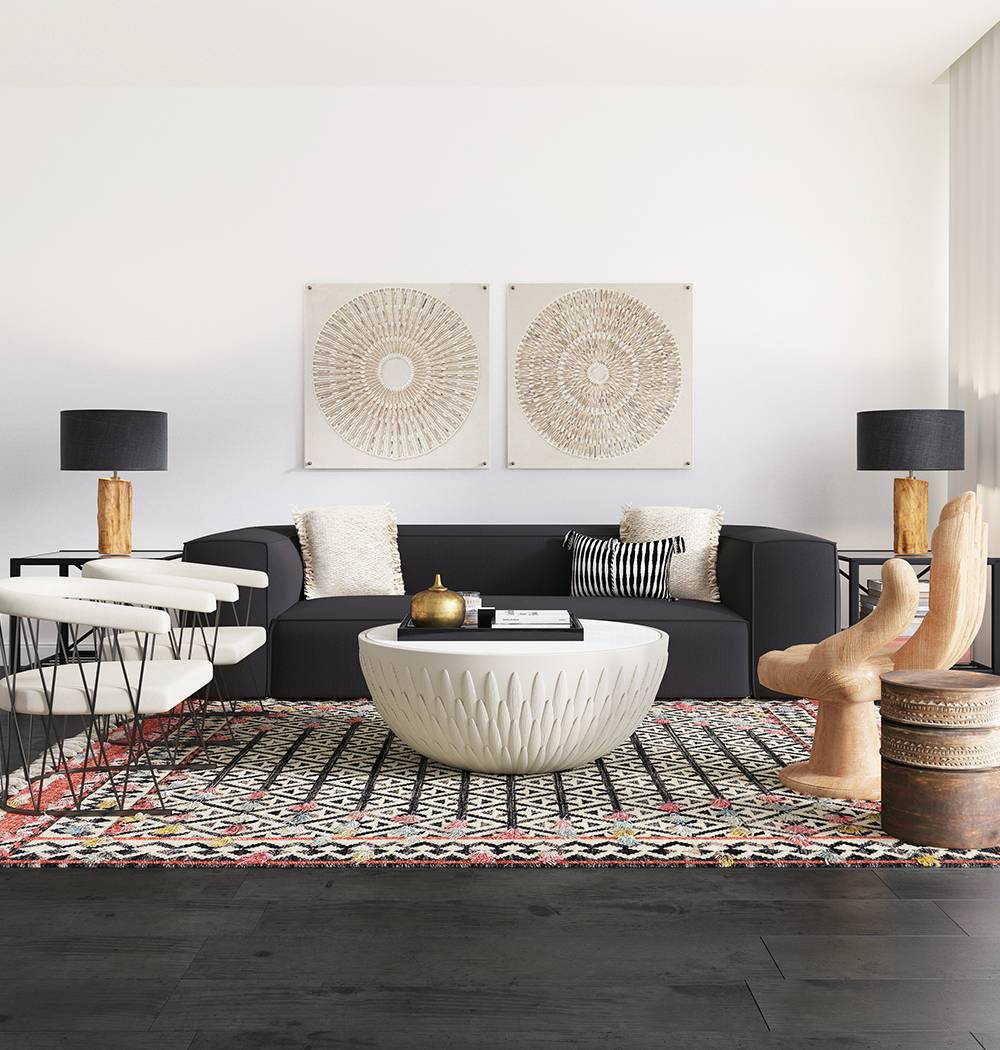 Rug profile
Crafted from the finest wool for softness and durability, it defines any space with style and texture.
What

80% New Zealand wool, 20% cotton

Feel

super soft & textural

Craft

hand woven

Area

living room, bedroom, kids

Origin

weavers of Panipat, India

Artisans

more than 60+ artisans handcrafted this rug
High traffic

Durable for high traffic areas.

Pet friendly

Furry friend approved, purrfect for your four legged pal.

Indigenous

Crafted from ancient techniques unique to artisan communities rooted in tradition keeping the artistry alive today.

Durable wool

Durable for high traffic areas.

Color safe

Free of all harmful chemicals—the yarn is dyed using low-impact techniques.

Natural fibers

Made from organic, plant-based, or natural materials free of harmful chemicals typically used in synthetic fibers.

Life cycle

Made from responsible natural materials for a closed-loop cycle meaning 100% biodegradability at the end of life.

Handmade

Ethically created by hand from start to finish demonstrating the unique artisan skill.
Find the right size
Hallway tips
Center runner in hallway unless furniture is pushed to the side
Leave at least 3" inches from rug edge and wall
Typical sizes are 2'6" x 7' | 2'6" x 9' | 2'6" x 12'
How to care
Vacuum regularly
Professionally clean for best results
Rug pad recommended as it extends the life of your rug
Note
Shedding is a normal process that occurs with new natural fiber rugs; it will subside over time. Also, there can be some variations in color due to the uniqueness of natural fibers.
Size Chart
Living Room

Rug should have 6-10" inches on both sides of sofa

Placement

Place the front two legs of any furniture on the area rug

Size

8' x 10' | 9' x 12' | 10' x 14'

Bedroom

Rug should border bed at least 36" inches on the 3 sides

Placement

If bed is pushed up against wall use a runner

Size

5' x 8' | 8' x 10' | 9' x 12'

Dining Room

Rug should border table at least 36" inches from edge of table

Placement

Leave at least 12" between rug and wall

Size

8' x 10' | 9' x 12' | 10' x 14'

Hallway

Center runner in hallway unless furniture is pushed to the side

Placement

Leave at least 3" from rug edge and wall

Size

2.6" x 6' | 2.6' x 9' | 2.6' x 12'